Let a Professional Connect with Your Audience
& Make Your Event UNFORGETTABLE!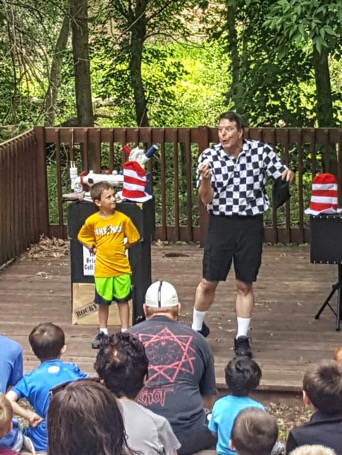 Let Brian bring his specialty of magic, laughter and interaction and make your job hassle FREE…with over 30 years of experience it's GUARANTEED! Brian gives you "kid experience" and a great interactive show at a fair price. But what really sets Brian apart is that he has customized shows for different markets. The content of the programs varies depending on the audience…Park & Rec, Daycares, Fairs & Festivals, Safety Camps, Girl & Cub Scout Programs, and Library shows just to name a few. Brian is an expert with the audiences of each of these groups and changes his shows to maximize the effectiveness!

And regardless of the audience, Brian offers 3 main formats for all of his programs:

OPTION # 1
STAND-UP PLATFORM SHOW - Brian has 4 different and distinctive platform shows. Because of this Brian promises that you can have him entertain four times in a given year and never get a repeat performance. This show is perfect for children pre school - 6th grade. It is an ideal choice for a family performance. But the real advantage of this show is that it can be setup just about anywhere and can accommodate groups as large as 400 people. Each program encourages active participation and constant belly laughs. The emphasis is on the ENTERTAINMENT with a little "how did he do that" added in. This program runs around 30 - 35 minutes.

OPTION # 2
DELUXE STAND-UP SHOW - In this program the magical fun is supported by music, sound effects, magic, storytelling, puppetry, tons of laughs and active participation by the kids and a fun handout for each child. This program is entirely self-contained and comes with it's own sound system. All we need from you is a place to setup and kids to watch. In addition to all the above, the deluxe show comes with a promotion kit that includes the following...........
1) Posters
2) Press Releases
3) Announcement Copy - Simple fill-in the blank form makes putting together PA announcements, Radio Public Service announcements or cable announcements a simple process.
4) Camera ready flyers
5) Photo ready ads for your newsletters and local papers.
6) Camera ready magic trick flyer teaches a number of beginning tricks for kids.
9) Camera ready optical illusion sheet. This program runs 60 minutes.

OPTION # 3
STAGE SHOW - Brian also offers a full size stage show that is perfect for groups of over 400 people but does have the limitation of requiring a stage area. This show includes small illusions such as: Vanishing a spectators head (don't worry they get it back), a HOUDINI style escape with a spectator from the audience, and sawing a person in half with a Black and decker saw. Besides the small illusions this show also features the usual high energy and interactive magic, puppetry, music, humor that Brian is known for. This show is ideal for using as a FUNDRAISING event. This program runs 90 minutes with a 15 minute intermission!

OPTION # 4
STROLLING AND BALLOONS - Another unique program that Brian offers is his strolling magic show. In this show, Brian strolls the area of the event and entertains small groups of people with his magic and balloon sculptures. Imagine…magic that happens right in your own hands. The nice feature of this performance is that your event doesn't have to stop while the show takes place. Ideal venues include: picnics, dinners. carnivals, open houses, festivals, and large family events.







Different programs and formats for different groups also means different prices so if you would like a summary of prices please click the category that applies to you. When you do you will get a PDF proposal for cost…PLEASE NOTE: the prices in each proposal does not include travel and expenses for locations more than 55 miles round trip from Brooklyn Park, MN.!